Self Cleaning Hot Tubs

Save up to $2,000
on a Hot Tub!

Offer Ends Oct 1st

Self Cleaning Hot Tubs

Save up to $2,000
on a Hot Tub!

Offer Ends Oct 1st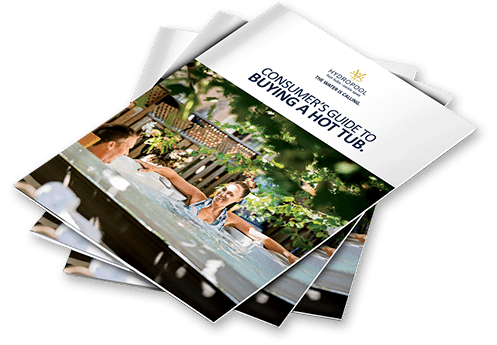 Free Hot Tub Buyer's Guide
To learn how to select the perfect hot tub, download your free buyer's guide now by clicking below!
Worlds Only
Self-Cleaning Hot Tub
Worlds Only
Automated Massage Program
Optional
Pure Water System
The Hydropool Self Cleaning Collection
The Hydropool Self Cleaning Collection
The World's Only Self-Cleaning Hot Tubs by Hydropool offer exclusive hot tub technology making them the world's easiest to maintain. The technologically advanced pressurized cleaning system simultaneously removes surface debris and vacuums the bottom of the hot tub with its integrated floor vacuum. The Self-Cleaning system filters and sanitizes 100% of the water every 15 minutes, our competitors take 8 hours. This gives you peace of mind that the hands-free system will safeguard you and your family. Indoors or out, a Hydropool Self-Cleaning hot tub will create more time for what matters. Whether in a 4-seasons room, or installed in your deck or backyard, a Hydropool Self-Cleaning hot tub will rekindle romance and relationships with family and friends.
Book an Appointment
Come in and view the ideal hot tub or swim spa for you in person and get additional $500 Off!
Why Buy A Signature Self Cleaning Model
Hydropool's Patened Self Cleaning Technology
We know that one of the big challenges for our customers is the time they need to invest in maintenance. Now, with our patented Self-cleaning technology, Hydropool has created the world's easiest hot tub to maintain.
The Self-Cleaning System cleans 100% of the water in only 15 minutes, that's an incredible 8 times in 2 hours! The design of our seating and the strategically placed jets create a continuous flow of water, pushing all floating debris towards the high flow skimmer and boosting the efficiency of our Self-Cleaning system. The wide mouth skimmer and pre-filter remove floating debris and oils, preventing clogging of the pump and heater, and increases filtration by moving debris into the pre-filter, extending micro-filter cleaning cycles. The Hydroclean Floor Vacuum pulls debris across the floor and helps to effectively circulate water care products. There's virtually no need to vacuum the hot tub as heavy contamination such as dirt and grit is removed.
Let's be clear, this is not a simple vacuum for your hot tub, it's innovation throughout the entire system.
PureWater UVC The Cleanest Water Possible
We don't take the power of water lightly and to us, it's a precious commodity so we've gone out of our way to create the most efficient water purification system in the world. The combination of our PureWater System and our Self-Cleaning technology gives you a system to maintain and manage your water that's automatic. The PureWater System is the most efficient water purification system in the world. It combines the Self-Cleaning technology with UV and Ozone Water treatments, eliminating 99% of all contaminants.
HERE'S HOW WE MAKE IT HAPPEN:
Micro Cell Ozone Purification: The water in your hot tub continuously passes through the patented MicroCell that treats it with Ozone, which is nature's oxidizer. This simple, but highly effective rapid oxidation process reduces chemical usage by More than 50%.
Exposure to UVC Light: The Ozone treated water then passes through an ultraviolet light Chamber exposing it to a high volume of UVC light, purifying it even further.
This combination of advanced purification using UV and Ozone creates active oxygen in the PureWater System which removes any Calcium and Biofilm inside pipes. All of this reduces the need to shock your hot tub water as the PureWater System eliminates 99% of all contaminants. Our PureWater system is on when your hot tub is circulating and our Quick Diagnostics shows everything is in working order. That means it's time to sit back and let the HydroClear PureWater System do its work.
Let's Talk About The Science Of Immersion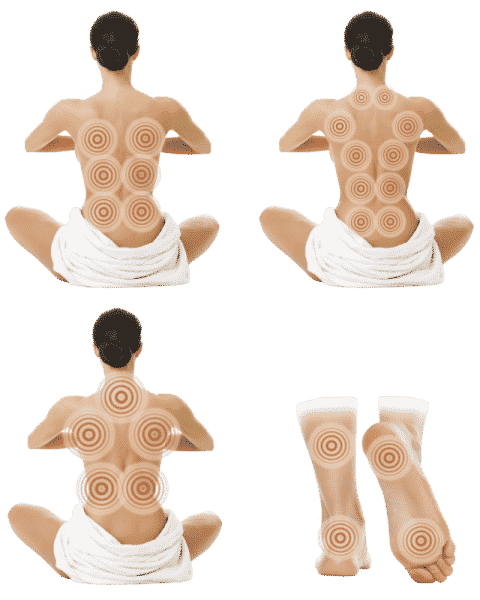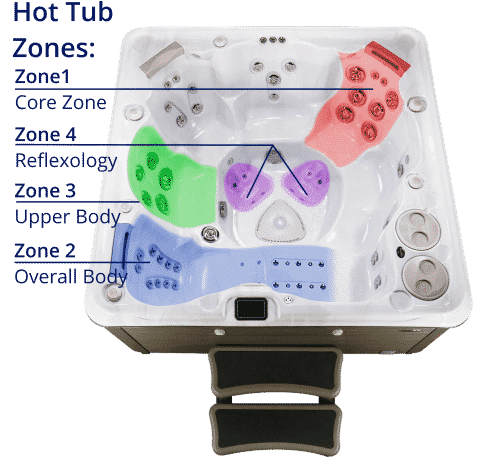 How Does Zone Therapy Work?
ZONE 1 – CORE ZONE
Activation of paravertebral muscles Vertebral (meaning your spine) fatigue can contribute to headaches. Zone Therapy is designed to release tension in your dorsal muscles which can help to relax around your vertebrae.
ZONE 2 – OVERALL BODY ZONE
Activation of leg and lumbar muscles This zone helps to promote improved circulation in the lower part of the body which allows for venous return (or blood flow) & lightens legs.
ZONE 3 – UPPER BODY ZONE
Activation of upper back, neck & shoulder muscles This zone eliminates tension in trapezoid muscles and the neck, specifically releasing tensions in the solar plex area.
ZONE 4 – REFLEXOLOGY ZONE
Activation of foot arch muscles With our feet playing such a critical role in our overall physical health and take the brunt of most sports this zone is designed to deeply massage the small venous areas in your foot arch.
Each Signature Self-cleaning model comes with a complete wellness guide, and our platinum and titanium models include our Hydrother Control offering the world's only pre-programmed massage therapy that features eight hydrotherapy programs, such as Leg pain, Back pain, Sports Recovery, headache and insomnia providing the ultimate stress relief. We Call This The Science Of Immersion.
Much like an iceberg, there's a lot going on below the surface of a Hydropool Hot Tub. With a vast array of science to support and develop our programs, our Zone Therapy has been designed to provide you with a personalized usage map of your hot tub to help you benefit from a general sense of well-being. Everyone is different and responds in different ways to hydrotherapy, so we've created an easy-to-understand summary of the four key elements that make up each zone so you can get the most out of your time in your hot tub. For more details download our brochure below.
Energy Efficiency Beyond Compare
One of the most frequent questions we're asked is around the cost to keep your hot tub at those ideal temperatures (around 100° F/37° C).
Well, thanks to our innovative HydroWise Thermal Shield Energy Efficient Insulation System and superior HydroWise Hard Cover, we've mastered the art of keeping the heat in and the cold out. Combine this with the fact that our hot tubs are engineered to be the most energy-efficient in the world, which means you can enjoy your hot tub for just pennies a day. All of the technology has been designed to exceed California Regulations which are some of the stiffest regulations in the world. We are literally setting the standard. Hydropool is ranked one of the top in the world for "stand-by" wattage and energy efficiency and one of the first to be approved under the strict State of California Guidelines.
See What Our Customers Have To Say